I have had it as the main studio interface on my macs last five years. Originally it was connected to a previous mac which was simply Firewire to Firewire.
My new iMac came along in 2017 and there was no Firewire Ports, so since then it has been Thunderbolt to adapter to Firewire to the Saffire
So few questions in this thread if anyone could explain:
I am sure when I first got this interface, I had to turn it on before turning on the mac, the lights on the front would all light up except for the FW light. Then I would start the mac, and the mac would connect to the saffire and the light FW would come on which meant we were connected and working fine. I would then eventually shut down my mac and only the FW light would go off but essentially all other lights on front panel were on. Often I would just switch the saffire off on its back switch.
As the years went on, EITHER a Mac OSX update or a Focusrite update changed this behaviour where the Mac would actually somehow shut down the saffire itself when I shut down the mac. Now when I shut down the mac, all of the lights on the saffire would go off and it has been like that till this day. I don't use the switch on the back of the saffire anymore. (Its acting kinda like a USB powered interface would, even though this saffire has its own power cable)
Is there any significance to this? The reason I ask, is that I have noticed that my mac and this interface are occasionally droping connections. Where the interface looks like all lights say it is connected, but in my Mac the Saffire has somehow been dropped. It doesn't know of this external soundcard anymore.
To fix, I shut everything down, switch off everything and then turn on 1. Saffire 2. Start Mac, and usually i can eventually get the Saffire and Mac back to working again together.
My concern is that this inerface was not cheap at the time, Focusrite has stated they wont support it after OSX Catalina. I checked the firmware and mix control and it seems I have the latest version. I have always hated this having to use an adapter on thunderbolt to firewire, but this is a consequence of me buying a firewire device from focusrite a year or two before the entire computer industry dropped firewire like a used toaster oven.
I have also never digged the heat which seems to come off the chips in the Thunderbolt to Firewire adapter, this amount of heat I have googled is said to be "normal" but I really think this connection is shaky.
Does anyone know about this? It is working for me still but it concerns me I will lose the interface at some point and focusrite wont help. Its a pity since it was a great interface and made two records with it and it has great features and preamps.
Cheers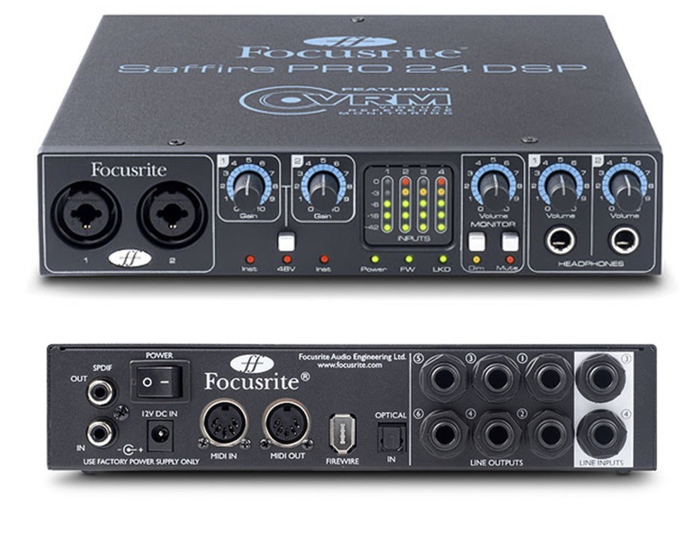 Hi anyone who is familiar with this interface 24 DSP/ But Id say the larger versions worked the same.