There is plenty more to say about the possible uses of a noise gate, especially from a creative point of view. However, that would divert us from the subject at hand. Besides, by now, I hope you have all started to realize the potential of this type of processing and, as a consequence, your imagination can do the rest. So, as a sort of conclusion to this noise gate chapter, I'll dedicate today's article to a brief review of the different plug-ins that I think are up to the task.
Golden Gates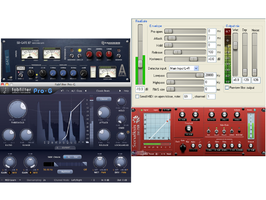 Many plug-ins replicate console channel strips with a built-in gate module. Unfortunately, the available parameters are almost always reduced to the strict minimum, which is far from enough for more than just a basic usage. Furthermore, the all-digital renditions of noise gates aren't as sexy as those of "vintage" compressors and EQs. Software makers don't seem to care to go much out of their way to offer a noise gate worthy of the name. So choices are rather limited, but there are still some good ones out there, no matter what your budget.
The first processor I recommend isn't the sleekest, but it is free and extremely comprehensive. It's Cockos' ReaGate. It's available for PC in VST format within the ReaPlugs free bundle, but it is also included in the company's flagship sequencer, Reaper, which is Mac and PC compatible.
The second noise gate I like to use is developed by French software maker eaReckon. It goes by the name of SD-Gate 87 and provides all essential functions to be able to work accurately, and for a very reasonable price.
The third option isn't exactly what you would call brand-new, but it shouldn't be taken lightly. I'm talking about Sonalksis' SV-719 Analogue Gate. True, the absence of innovations from the software maker has made its products fall into oblivion. However, the qualities of this gate make it still relevant today and, considering it has been supporting 64-bit operation since 2011, why not give it a try?
To wrap things up, if your budget allows it, I recommend you to take a look and lend your ear to FabFilter's Pro-G. As is usually the case with FabFilter plug-ins, design and usability take another dimension. The visual feedback is very useful and the audio quality is top-notch.
There are certainly other options out there and this list does not intend to be a comprehensive survey of all of them. Do note however, that I have personally used all the plug-ins listed above in a professional capacity and they have never disappointed me. That's why I don't hesitate to recommend them to you. I hope you find them helpful!