When a young and groundbreaking manufacturer puts his efforts on digital convolution to emulate the sound signature of speaker cabinets, the result looks something like the Torpedo VB-101 & VM-202 guitar and bass speaker simulators.
Once you know that this French manufacturer has conquered the heart of famous pros like Michael Wagener (Metallica, Lordi, Motley Crue, etc.), Ahrue Luster (Ill Nino, Machine Head) or The Rasmus, you can't just stand there and look the other way...!
The VB-101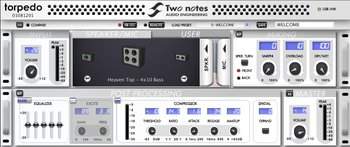 And how does it sound?
The VM-202

Some sound samples.....
The French Touch
Both Torpedo VB-101 and VM-202 are rare and original tools designed for specific needs. The concept, the construction quality and the ease of use make you very confident when using both devices. We can easily imagine taking the Torpedo anywhere with us regardless of the application.
Personally, I had the opportunity to test these products in real studio conditions, with guitars and basses, and I must admit that I was impressed by how good the simulations integrate in a mix or recording. Even better: I never had the feeling that I was using a signal processor based on digital simulation. It's true that my old '81 JCM 800 speaker cabinet generates a bit more hum noise than the Torpedo simulations. However, they haven't really received the same treatment over the years!
Despite its rather intuitive design —based on logically structured browsing— learning and setting up these products requires a bit of time. If you are a demanding sound freak and like to consider all options available, it will take you more then just five minutes to create a simulation that matches your needs for a specific recording. But you can always argue that it's the same with "real" miking... Moreover, the user's manuals are clear and comprehensive enough to make the learning curve not too steep. The diagrams explain very clearly all wiring/operating possibilities, and every single part and function of the Torpedo is described, making it easy to understand.
The remote function via USB improves the workflow with the Torpedo a lot, since it all parameters more easily accessible. Add to this a monthly updated impulse response library and an always up-to-date website that provides interesting tutorials, as well as all documents and software tools required for optimal operation, and you' won't have a single problem finding out the best way to use the Torpedos.
Sold for $2650 each, the VB-101 and VM-202 are professional tools matching today's sound requirements.
Pros
The sound!
Ultra-comprehensive connections
Number of simulations provided
Possibility to sample your own system
Very useful remote Learning curve and understanding of the device can take some time 
Cons
VM-202 without integrated LoadBox
Hey, Mr. Two Notes, how about making a VBM-102 that combines a VB-101 with the connections, amp simulation and a second DSP like the VM-202?
These products are dangerous for your cardiovascular health because they contribute to minimizing your efforts in the studio. Simulate, but move, for your own sake!