Pignose
Pignose is the 759th most viewed brand on AF
The most popular
Pignose

products
User reviews on
Pignose

products
Pignose G60VR (G60VR)
By MGR/Anonymous, 31/05/2010
4 12AX7 preamp tubes, 2
6L6
power tubes, 12' speaker, effects loop (very handy), selectable high/low gain switch. Been playing 30 years, was looking for a portable substitute for my 4x12 stacks. Play mostly classic rock and country covers, sometimes in a ban d situation and sometimes in open jams
Purchased this nearly new on ebay about 4 years ago for 200 bucks.
I like the portability of the unit. Great volume and tone, takes pedals *very* well. The stock speaker was a little crappy so I replaced it with an Eminence v12 from one of my 4x12 cabs. Fabulous improvement. I then replaced V1 with a NOS 5751 and V2 with a NOS 12AT7. It now has the tone.
It has lower gain than it's little brother, the
G40V
. That's where the pedals come in. The reverb was a bit overbearing, so I replaced V4 (reverb driver) with a NOS 12AT7. Now it's really sweet.
Well made albeit with particleboard construction. Carrying the amp, I tripped once while stepping up on a high stage. The amp flew through the air about ten feet and landed solidly on it's back on a concrete floor. Horrified, I plugged it in and it worked perfectly. Guess that's the equivalent of the Samsonite gorilla test.
Love it. Portable, tube amplification, great versatile tone, effects loop. Would buy again - too bad they don't make them anymore
This review was originally published on
http://www.musicgearreview.com
Better than a Bassman ! (G40V)
By Hieroglyph, 15/12/2017
In 2007 I bought mine new/old stock (in UK) as my then also new Fender Bassman had to go back under warranty, In the cross-over between having them side by side, the Pig gave more of what I had hoped to get from the Bassman! Consequently I moved on the Bassman and kept the Pig.
Don't turn your nose up at a PIGNOSE! They are basically the Bassman spec that became the Marshall JTM Mk1 as has the Bsssman circuit but with a MASTER VOLUME!
I Can get some great roaring tones from mine and are rated at 40W from 2x6L6 3x12AX7. Output into a 4x12 and is a massive sound.
I have followed the Premier Guitar Ask Amp Man upgrade on my G40V..
https://www.premierguitar.com/articles/Dusting_Off_a_Pignose_G40V
https://www.premierguitar.com/articles/Pignose_G40V_Amp_Mods
The amp is ultra portable for a loud tube amp and makes an excellent backup - or even better - part of a stereo setup with a Tweed Deluxe!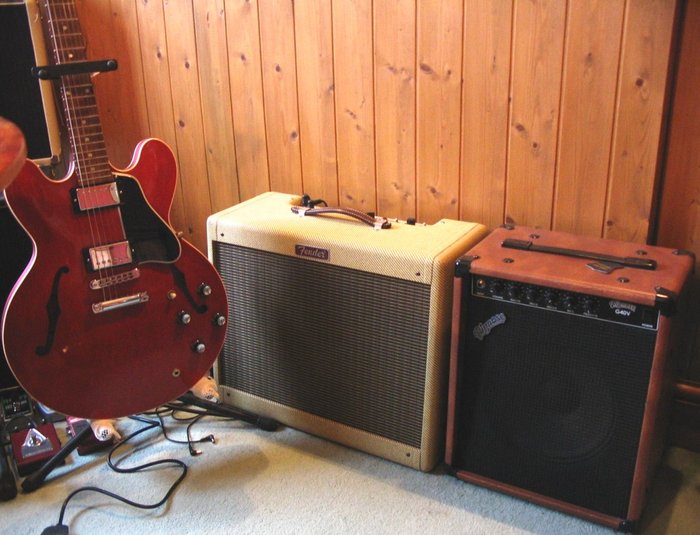 www.boss-pedals.jimdo.com
Pignose

classified ads
Pignose G60VR

$300

Reverb classified ad