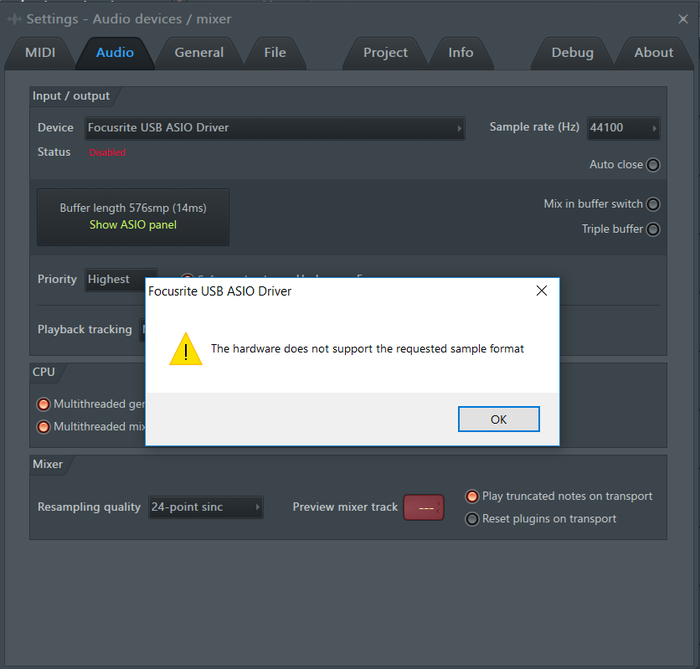 The other day I was using my Saffire 6 to record vocals and as I went to change the buffer length FL crashed and when I reopened it I got the error message 'the hardware does not support the requested sample format'. Whenever I choose the 'Focusrite USB Asio Driver' I see this message and therefore cannot use the Saffire. At first I thought my Saffire was broke but it still works fine when I'm using it outside of FL (playing audio off desktop etc.).
I have uninstalled and reinstalled the most updated drivers from the Focusrite website and I still receive this message. I have also uninstalled and reinstalled FL but that didn't change anything either. Another strange thing is that when I select '
ASIO4ALL
' as my audio device, 'Saffire 6' shows up in the device menu and I can select and use it fine that way but it often crashes my FL and has big latency issues as I know it's not intended to be run that way. Following this I checked the device manager and the drivers say they are working properly and disabling and re enabling them didn't change anything.
I have looked everywhere for a fix but the only solution I found was to wipe the laptop and that's really not possible as I have too many files on my laptop and no spare harddrive to create a backup (if I have to buy a new harddrive I might as well buy a new sound card!).
The only thing I have not tried is using the Saffire with a different DAW on my laptop as I don't have any others installed but I am pretty confident that this is an issue between the device and FL specifically.
Thought I'd try my luck on here and see if anyone has any advice/suggestions before I go and buy a new soundcard but I am also worried that if I buy a new Saffire 6 the problem will still occur as it doesn't seem to be a device issue.
Also I just noticed when taking the first screenshot that if I click 'ok' on the message that comes up I can no longer open the ASIO panel to change the device settings,
however
if I don't click ok I can open the panel and the buffer length is default at 1ms and there is no sample rate selected (2nd screenshot). No matter what I do to the settings once I press ok the device is still disabled and when I reopen the panel the settings are back to what they are in the screenshot.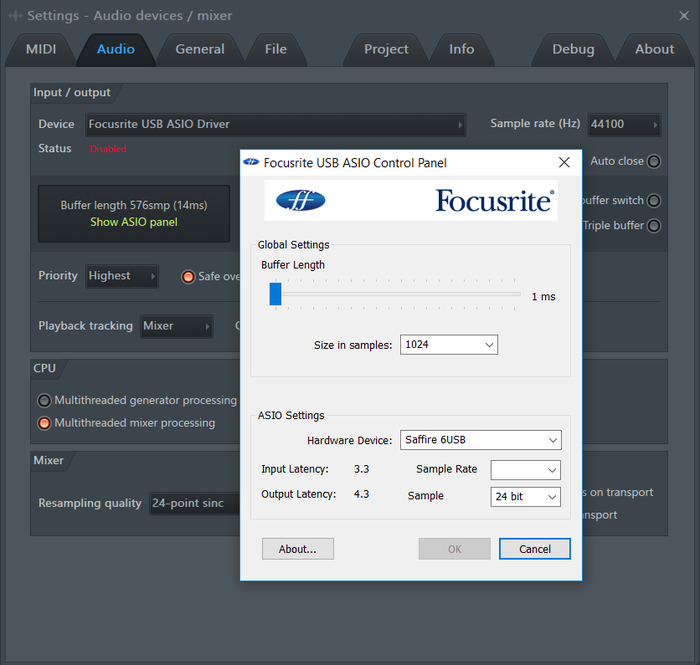 I think this is a big clue as to what the problem could be so if anyone has any suggestions it would be much appreciated. Thanks!
Dell XPS9550 16GB 512GB SSD i7 | Fl Studio 20 64bit