The most popular
Bass String

products
User reviews on
Bass String

products
Definitely adopted on my bass, as previously on my guitars (Elixir Strings - Nanoweb Coating Bass Nickel Plated)
By gratteurdebluesteel, 15/12/2015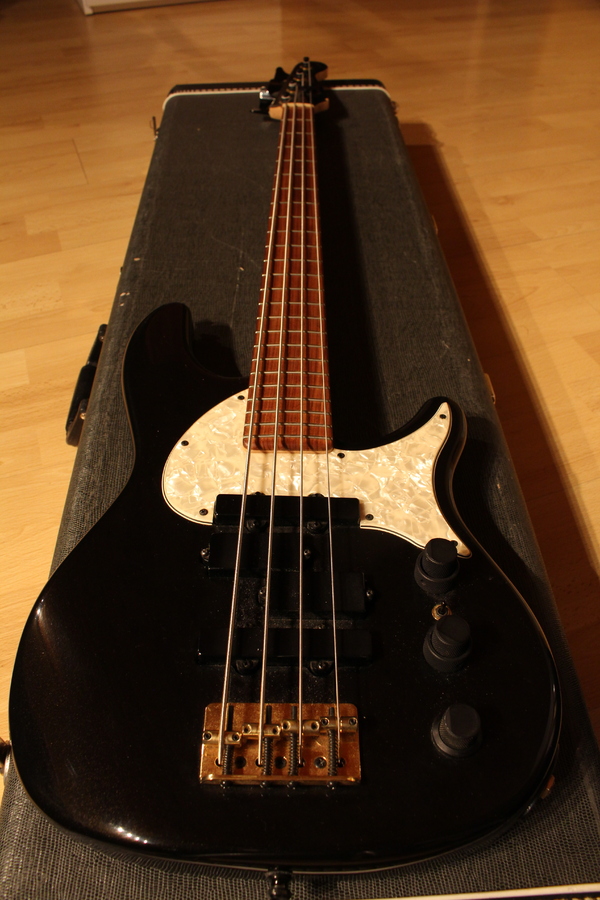 Strings tested on Fender Stu Hamm Urge bass
I play mostly pop rock, sometimes progressive rock, with a Line6 x3 live multieffect pedal, picking hand and sometimes with a pick.
Strings already used before:
Ernie Ball 2824
hybrid slinky, DR LO rider, rotosound RS66LD etc... The Elixir replaced Ernie Ball.
At first contact, the same very pleasant feeling as the first nanoweb strings I'd mounted on my guitar: smooth touch, ease of movement on the strings, unnoisy on slides...
I found them very stables as soon i installed them, as properly mounted: pull on them after installation and first tune, then tune it again.
Some records: (bass plugged directly on HiZ input of my sound card... so you can reamp these samples with your pedalboards/amplifiers if you want to...):
- picking hand few notes:
- Now with a pick:
- A little bit of slap... no worries about the coat that won't intruduce any damping effect on the sound
- Finally, a record of slides on these Elixir strings. Really pleasant on touch and to not ear finger scraping:
To me, the sound is really great, just a little bit metallic but not too much, round too... in short: balanced. In fact, well adapted for the music i do.
About longevity, i cannot comment on that for these strings, as i've just mounted them... However, with hindsight i have with guitar strings, i can say that coat efficiently protect from rust and allow to keep them for a long time... very long time... Without loosing any tone or feel limiting dead skin deposit on gaps between windings.
Right, they cost a little bit more than other strings, but we keep them so much longer that it really is worth the price.
A little compare between a classic string and Elixir String with coat (picture taken with reverse lense the get a really big magnification):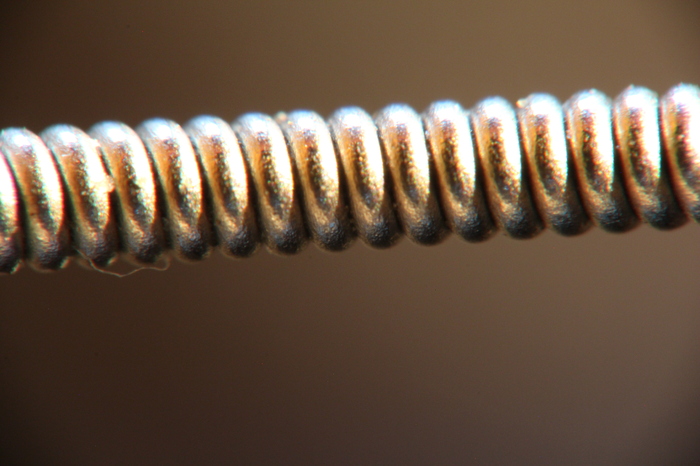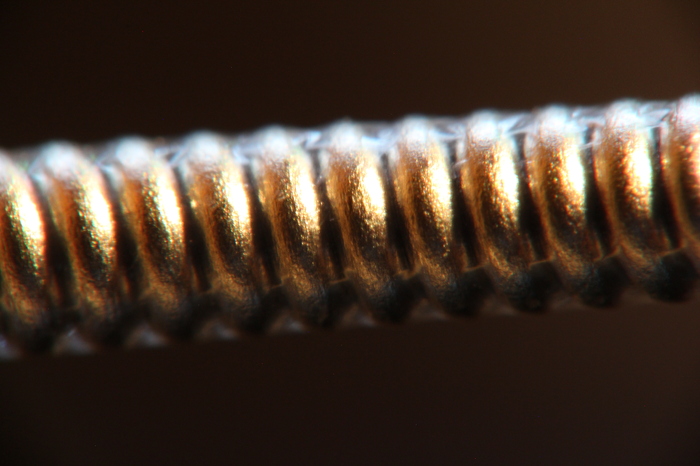 In conclusion, to me, i like the strings. Elixir is much talked about on boards... The feeling can appear as a little disturbing at first and it's only after few days using them that you should made you own opinion and not after only a brief try in a music shop... After than, you'll love them or hate them... So let's try them!
The only tone down i may add, is the lack of fun on product range... Even at have strings coat protected, why not get colored strings, luminescent or other?
+ Balanced sound
+ Long lifetime
+ Stables
+ Pleasant feeling
+ quality-price ratio
+ concept and quality of realization
- Lack of fun on product range (for the same price
)
Not my cup of tea; but I can tell it's a damn fine cup of tea (Elixir Strings - Nanoweb Coating Bass Nickel Plated)
By MortalWombat, 23/10/2015
I recently had a chance to try out some Elixir Nanowebs (14202 - Light gauge .045-.130) and I must say that I was pleasantly surprised!
These are actually the first coated strings outside of tapewounds that I've tried, but I have heard from numerous folks over the years that coated strings are simply a novelty, don't sound as good as an uncoated string, and only give a very slightly longer playable life. Gotta say I no longer believe those folks. Numbers ratings are mostly way subjective to what each person prefers, so here's a summary of my thoughts now that I've had a chance to really put these strings through the wringer.
Tone
When I first put these strings on my Moser Bastard Vi, I immediately noticed that they were very crisp, bright, and rich. After playing them for a few solid hours, the initial brightness did very slightly wear off as the strings broke in, but the tone just evened out a little bit and then stuck with the same nice and bright tone since that point a few weeks ago until now, with many hours on them in between.
They aren't the very brightest strings I've used, but are about as bright as any other quality round wound and hold at that same level better than most.
Definitely far lower string noise that normal roundwounds.
Feel
Part of the objection that many have to coated strings is that they just don't feel right and just slide around everywhere. I was definitely surprised how much like uncoated these strings feel. I would say the initial impression (when my hands were dry was that they just felt like they were polished or something, but not like the noodly mess that I expected.
That said, if your hands sweat as much as mine do, they do indeed get rather slippery, especially i. THAT said, my hands sweat tons, but don't corrode strings like some other sweaty guys do. If your sweat is on the more corrosive side, the slipperiness may be worth the protection.
Longevity
After a month of heavy use, they are still keepin' on keepin' on. As mentioned in the Tone section, the tone has held beautifully compared to many traditional round wounds. While they have not maintained the same brightness as when they were fresh, it has definitely decreased far less that most others.
While I generally don't use a pick very often, I did give these strings a good bit of time with picks ranging from Wedgie rubber picks and super thin and floppy picks to a 3mm stubby and even a big stainless steel triangle pick. Through all of this, the coating seems to have held up perfectly. To be fair, I certainly didn't put in the kind of time that a dedicated picker would, so I can't attest to how they stand up to heavy and continuous picking, but I feel that they did well for the amount that I did put them through.
Appearance
They look like a standard set of strings. They aren't super glossy and reflective and they definitely haven't gotten cloudy or yellowed or anything in the month that I've been using them.
Personally, I kinda like having a nice looking silk on my strings, but then again you could also run into the color clashing with your bass or your strap or whatever, so it's not like it's any sort of negative that these are naked. Naked is definitely more neutral and versatile, but sometimes fancy is nice too.
Overall
If you like your strings to keep as close to that fresh brightness as possible and your hands don't sweat a whole lot, I think these are going to knock it out of the park for you.
For me personally, I don't foresee using them regularly as I've got very sweaty hands that don't corrode strings and my preference in tone and feel is more for quarter round strings. I could certainly see using these strings in certain situations, though
All in all, not my cup of tea; but I can tell it's a damn fine cup of tea.
Here are some pictures of them on my Moser:
(Sorry for the only slightly above potato quality. Turnip maybe?)
Much better than expected (Elixir Strings - Nanoweb Coating Bass Stainless Steel)
By olejason, 19/10/2015
My only past experience with Elixirs was many years ago. While the sound was good, I was never thrilled with the feel of the strings. I was skeptical but optimistic about the new formula for these strings but I was excited to give them another go.


FEEL:
Out of the box the strings do exhibit the same "Elixir feel" of old. The coating feels a little slick and slightly unnatural. I wanted to wait a few weeks to write this review because I suspected the strings would start to feel more natural as they broke in... and I was right. After three weeks of playing the strings, they don't feel any different than uncoated SS bass strings.

SOUND:
Once broken in, the strings sound about as you'd expect stainless strings to sound. They're definitely not super bright like a few strings offered by other manufacturers but they are brighter than nickels. Fundamentals are strong and overtones are present enough to work for a variety of modern bass styles. These strings are GREAT for modern jazz. I used the strings on several gigs over the last few weeks, mostly jazz and folk rock. In the context of jazz they worked wonderfully for both rhythm and soloing. While stainless strings wouldn't be my first choice for the folk rock gig I was pleasantly surprised at how they performed in the context of the mix. They sounded big and full but every note was also completely audible. No thuddy plunky sounding lines! While I didn't test them in context, I think the strings would also work well for metal and modern funk.

CONCLUSION:
Overall I'm very pleased with the strings and I think Elixir has nailed it with the new formula. I would advise new users to be patient and give them time to break in. The great thing about coated strings is the longevity they provide. After a few weeks of hard playing they still sound new. My usual SS strings will begin to change significantly after a few weeks of being played so this was a pleasant surprise.